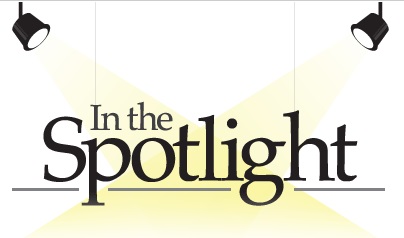 Delta Overload 6068 of Gentry High School - "The Mississippi Delta's Lone Robotics Team"
John Cochran, Algebra I and AP Calculus Teacher; James Jimison, Metal Fabrication I, II, and III Teacher
For this interview, we talked to the leaders of Delta Overload 6068, Mr. John Cochran (Gentry High School) and Mr. James Jimison (Indianola Career and Technical Center), as well as 2 of the team's members, Jayden Cochran and Adoris Turner (both of R.L. Merritt Jr. High). This year's team is comprised solely of 9th graders.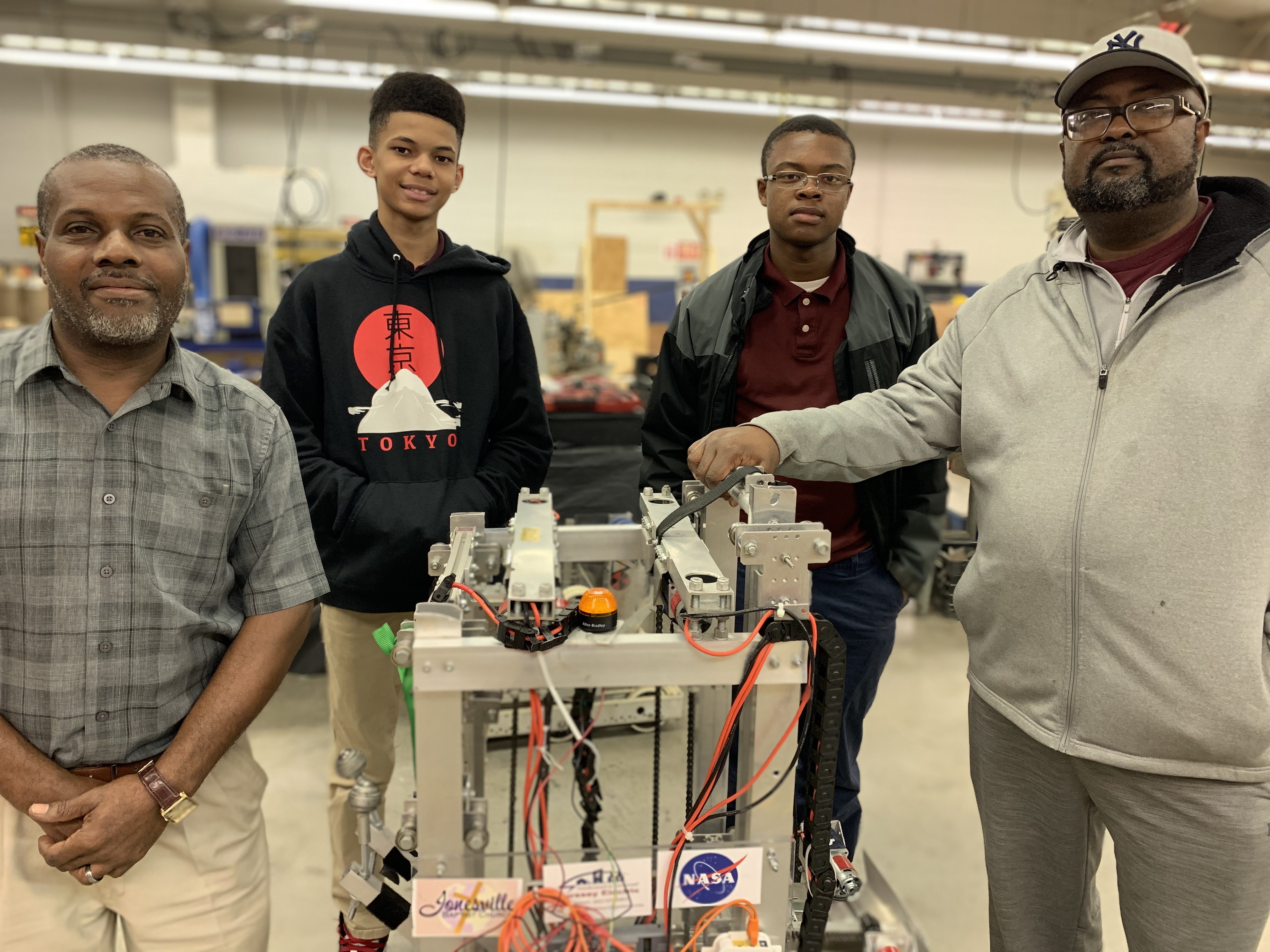 What is Robotics all about? Mr. John C: Our program is called "Actualizing STEM Potential", and our purpose is to provide students with an awareness of STEM careers and begin exposing students of color to these opportunities. We expose kids to programming and electronics so that they can see what is out there for them. The Robotics competition is a way of us putting it all together.
How long has this program existed? Mr. John C: This is our 5th year of the program. We work with Mississippi Valley State University and Virginia Tech University. Mr. James J: We have several professors come in to help. We are preparing for competiton right now. We have sub-teams, such as a programming team and a design team. I head up the manufacturing team and there is also an electronics team. Mr. Ralph Smith, as well as professors from MVSU help guide the teams. Virginia Tech creates the curriculum.
Where did the team name come from? Mr. James J: We are Delta Overload 6068. We were the 6,068th team to join "First Robotics". A professor from Virginia Tech, Dr. Brand, who lives in Shaw, MS, is who we consider to be the mother of this project. She stumbled upon Gentry and thought it was a great spot to begin a robotics program for the Delta. She and Ralph Smith began working 5 years in advance on a grant to be approved. This is the 5th year of the program, so this work really began 10 years ago.
What is the full year process like and what is? Mr. James J: We are currently in "Build Season", which will lead us right up to the actual competition in New Orleans in March. When this competition is over, we have a period of rest to step away from it because it is so intense. We have a few meetings in the spring. Our summer camp is our real kickoff in June.
Mr. John C: We recruit students at Carver and Merritt, usually at May Day, which is where we take our competition robot to show it to the students. We ask students from 3rd through 8th grade to sign up. Our summer camp serves as a bridge to this program. Last year we had a group of about 25 seniors, most of which had been with us for 4 years. This year we used the recommendations of math and science teachers to recruit this team. After recruitment, we have a parent night to explain to them what this entails and how much is required. We meet 6 days a week, 5:00-9:00 pm Monday through Friday, and 12:00 through 5:00 pm on Saturdays. It is very demanding during the "Build Season". It takes a lot of time to design and build the robots.
Mr. James J: Our first meeting is usually the Wednesday after Labor Day. We start meeting on Mondays and Wednesdays from 5:00-7:00 until we reach the kickoff. In January, we meet at Valley to find out what the competition will be like. After this, we pick up meeting daily.
Mr. John C: The reveal is done nationally. They tell the team what the game will be. Each year is similar. We have to design a robot that can pick up objects, shoot objects, and manipulate objects. Everything is structured around cooperating with other teams in order to be successful. You cannot do this on your own.
From a student perspective, what have you all enjoyed the most from this experience? Adoris: I like working with the robot mostly, and programming. Jayden: I prefer actual construction of the robot.
From a teacher/leader perspective, what do you enjoy the most about this? Mr. James J: I love the challenge and the opportunity to work with young people in exploring and coming up with new ideas. It is amazing to take a thought or concept and build an actual robot. You're sharing this with the young people.
What are some accomplishments or things that you want people to know about "Delta Overload 6068"? Mr. John C: Each year we have improved and been better than the previous year at competition. The regional competition that we attend in New Orleans has around 60 teams. 24 teams end up in the playoffs. The top 8 teams get to pick 2 other teams to play an alliance with them. We were able to be one of the teams picking other people to play in the playoff round with us last year. We made it to the semifinal round last year. We ended up being an alternate for another team that was not able to go to the World Competition in Houston, TX. There were over 400 teams at World Competition. We finished ranked 18th in the World Competition. We had a good year last year.
Mr. James J: He's being modest. That's an incredible feat. We are in year 5, when some teams have been competing for far longer.
What are your goals for where you want to see the program in the future? Mr. John C: We would love to see more of a feeder program similar to the summer camp. There are middle school and elementary school leagues that help build the high school program. By the time they get to high school, they are well prepared. We also would love to help other teams in the Delta become a part of this. There are only 7 teams in the whole state. It's expensive, so many aren't able to fund it. We are the only team in the Delta and up until last year, we were the only African-American team. We are the only robotics team north of Jackson.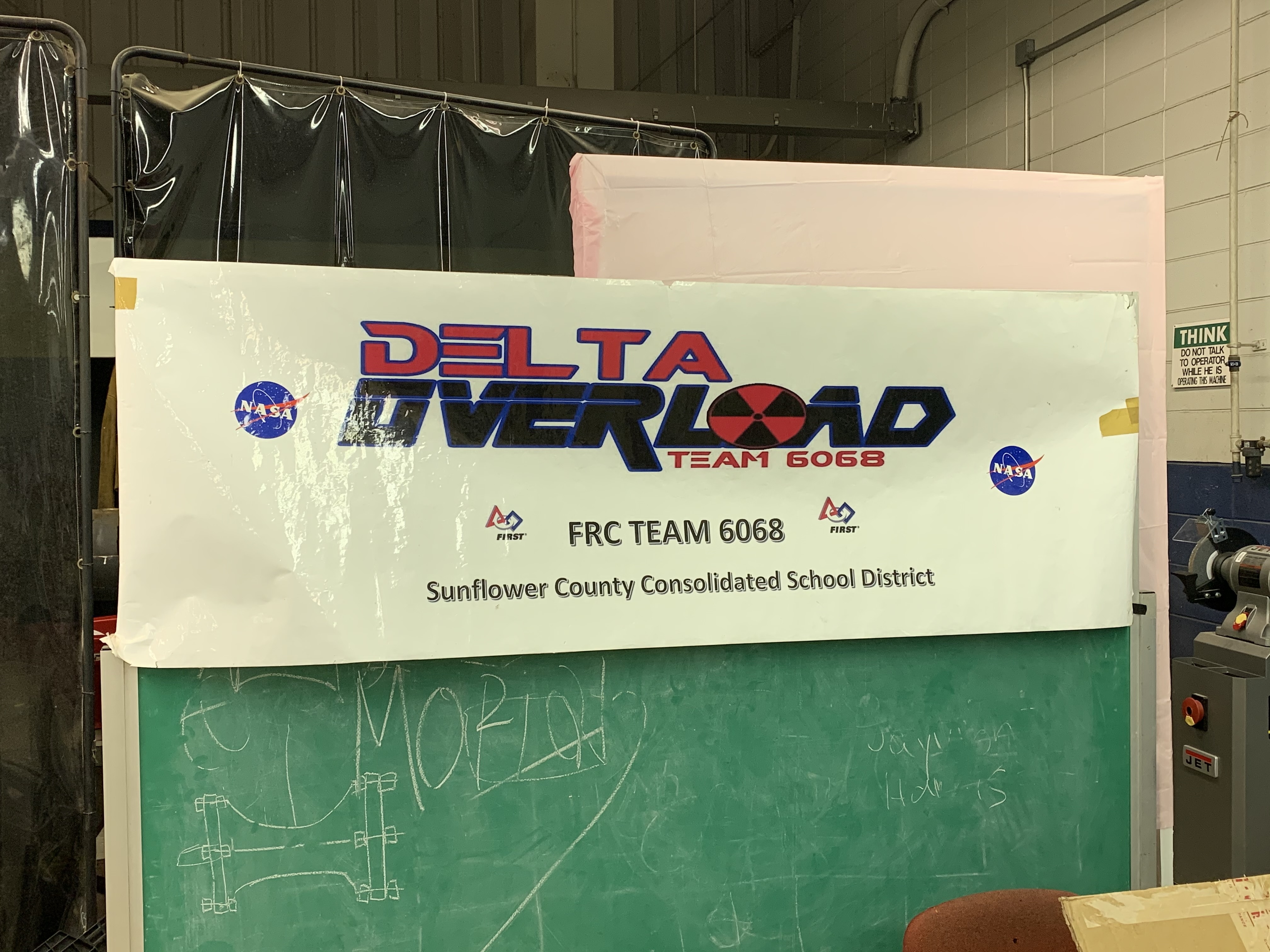 How are you funded? Mr. John C: We were initially funded through a grant that has covered us these years. Next year, the grant will be up so we have to come up with funding to keep it going. We have some small grants as well as parents who assist, but the expenses for the year are around $50,000.
If parents are interested in this at an early age, what advice or direction could you give? Mr. John C: There is funding from First Robotics to start programs, but rarely any funding to sustain them. If parents are interested, this could be a route to get it started. Going to the First Robotics website is a great start to find out more information.
What do you want people to know about this program that they probably don't know? Jayden: It doesn't take a genius to be part of this program. It's hands-on, simple to get into, from manufacturing to programming, it is simple to start with. Over the summer, we get basic ideas on how to construct things that help us from there. You don't have to be a genius here. You can be who you are because there is always something for you.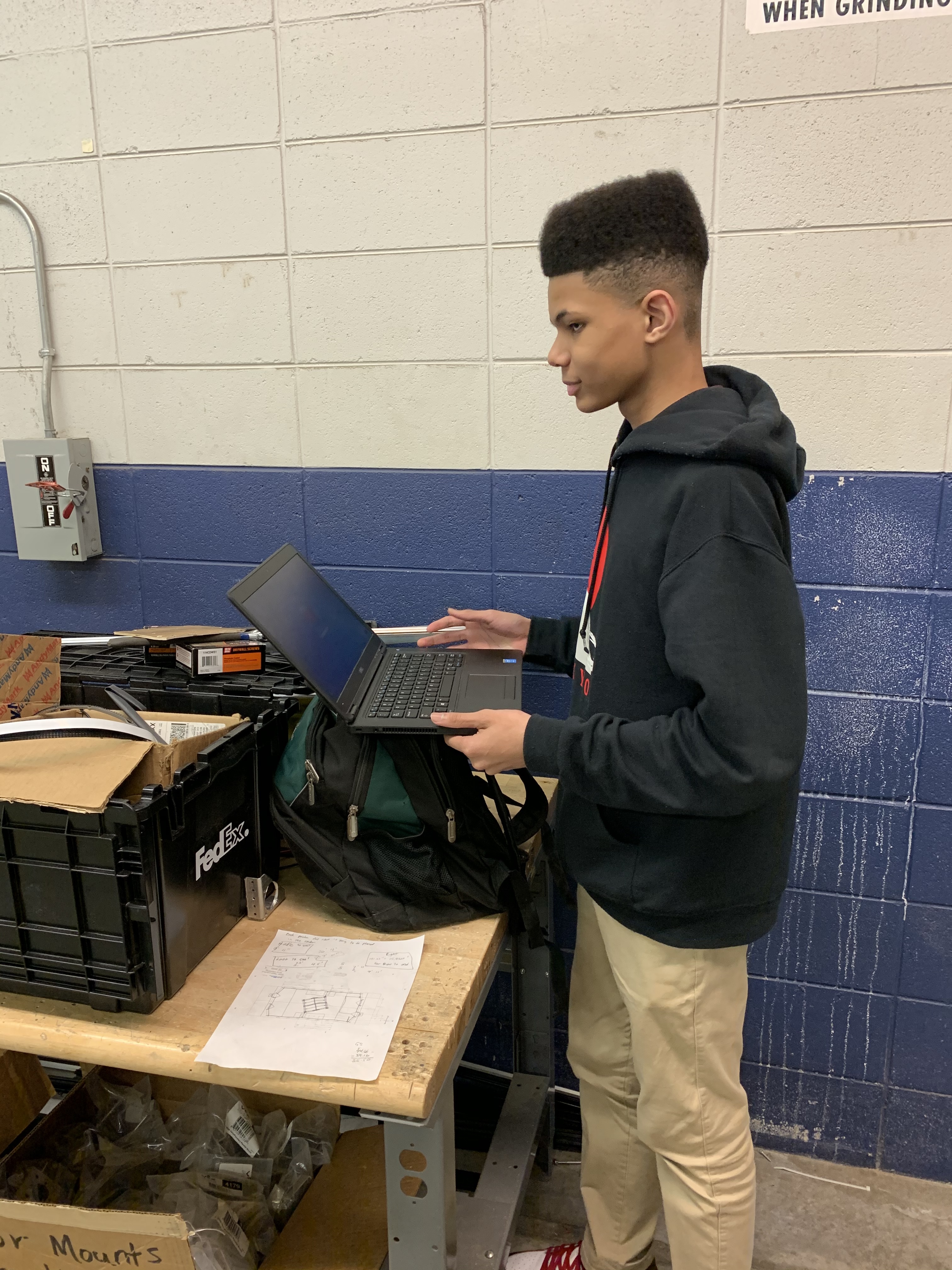 Adoris: Robotics is not as hard as some people think. It's actually very beneficial because it helps out with technical problems on other electronic devices.
Mr. James J: It is often believed that African-American children don't have the mindset to be able to succeed in this field and program. That myth has been disproven. We have had a lot of success. Some of our students who graduated have gone on to college and are majoring in engineering fields at their respective schools. It's a win-win for everyone. I once heard Jayden say that it's mind-boggling how much we learn in such a short period of time. He was very accurate.
Mr. John C: One of the buzz phrases that we hear a lot is that "this is the hardest fun you'll ever have". It can be really tough but this also is what makes it so much fun. The students gain so many basic life skills…measuring, cutting, using tools…things that we take for granted.
What are skills or characteristics that people in this program must have? Jayden: You definitely have to be optimistic because you will have a lot of setbacks and frustrations so you have to be dedicated.
This video from 2018 shows a bit more about Delta Overload 6068:
If you have more questions about Delta Overload 6068 or want to assist them in any way to continue this program, contact: Mr. John Cochran - Gentry High School (662) 884-1240 or via email jcochran@sunflower.k12.ms.us
STUDENTS
Clamaurion Jenkins (9)

Africa Wilson(9)

Jayden Cochran(9)

Javin Beaman(9)

John White (11)

Delvin Smith(9)

Jordan Price(9)

Adoris Turner(9)

Carmel Ray(9)

Jeremy Oliver(9)
SCCSD STAFF
PARENT VOLUNTEERS
Yulunda Campbell

Clemario Jenkins

Demetria Price
MVSU
Dr. Dan Trent

Mr. Marcus Golden

Mr. Lemorris Strong
VIRGINIA TECH
Dr. Brenda Brand

Ms. Lezly Taylor

Mr. Howard Brand