Exceptional Education Director: Kenyia Procter-Davis

Location: Admin Building II, 702 Hwy 82 E

Phone: 662-884-1200, Ext. 127
Fax: 662-887-7042

E-mail: kprocter@sunflowerk12.org
Exceptional Education Case Manager: Helen Cobb
Email: hcobb@sunflowerk12.org
Phone:(662) 884-1200 Ext:128
Psychometrist: Dawn Tatum
Email: dtatum@sunflowerk12.org
Phone:(662) 884-1200 Ext:126
Bookkeeper: Felicia Longmire
Email: frlongmire@sunflowerk12.org
Phone:(662) 884-1200 Ext:130
Sunflower County Consolidated School District provides free and appropriate public education for all students with disabilities who are three years of age and older. The District provides programs and appropriate related services for students who have been identified as needing such services to have access to and gain benefit from the regular education curricula. If you feel that your child may have a disability that is interfering with his/her education, please contact your building principal. If you have any questions concerning special education programs and services or concerning the educational rights of students with disabilities, please get in touch with the Department of Special Services at 662-884-1200. Working together, our goal is to realize your child's academic and social growth.
Special Services and Referrals
SCCSD provides special education and related services to students who are identified as having a recognized disability under the Individuals with Disabilities Education Act (IDEA-2004) or disabled under Section 504 of the Rehabilitation Act. Students who may be eligible and in need of special services may be identified through the District screening process or by referral. As a parent, should you have reason to believe that your child may be entitled to special education services, you may request an evaluation. To request an evaluation, please address a letter to your building principal including the following information: name, age, and grade of your child, the reason you are requesting an evaluation, and your complete name and address. Any questions that you may have regarding the referral process or the special education services of the District may be directed to your Building Principal or to the Director of Special Services who is located at the Administration Building.
Related services include those needed to assist the student with disabilities to benefit from special education. These services include, transportation, speech pathology and audiology, psychological services, physical and occupational therapy, recreation, early identification and assessment of disabilities in children, school health services, social work services, and parent training
Special Services Transportation
Transportation needs for students with disabilities are discussed at the student's IEP meeting. If you have any concerns regarding transportation, please contact the student's teacher, the building principal, or the Department of Special Services to arrange for an IEP meeting. Per State regulations, unauthorized riders are not allowed to ride a bus with a student. Only individuals who have been authorized by the District or the student's IEP team may ride the bus. Therefore, parents or other individuals may not ride the bus with the students. Should a student with disabilities have special needs that require the bus driver's knowledge, such information will be shared with the bus driver. The bus driver is held to a strict code of confidentiality, so the driver, therefore, cannot discuss any student's personal information with anyone other than specified school personnel. If you have any questions or concerns regarding a student's eligibility for transportation services, please contact the Department of Special Services at 662-884-1200.
Definition: All children with disabilities residing in the State, including children with disabilities attending private schools, regardless of the severity of their disability who are in need of special education and related services are identified, located, and evaluated. The collection and use of data to meet the requirements of Child Find will be subject to the confidentiality requirements.
Child Find requirements apply to:
Highly mobile children with disabilities (such as migrant and homeless children) and;

Children who are suspected of having a disability and may be in need of special education, even though they are advancing from grade to grade.
The expected outcome is that all children with disabilities who are in need of special education and related services under the Individuals with Disabilities Education Act (IDEA) are identified, located, and evaluated.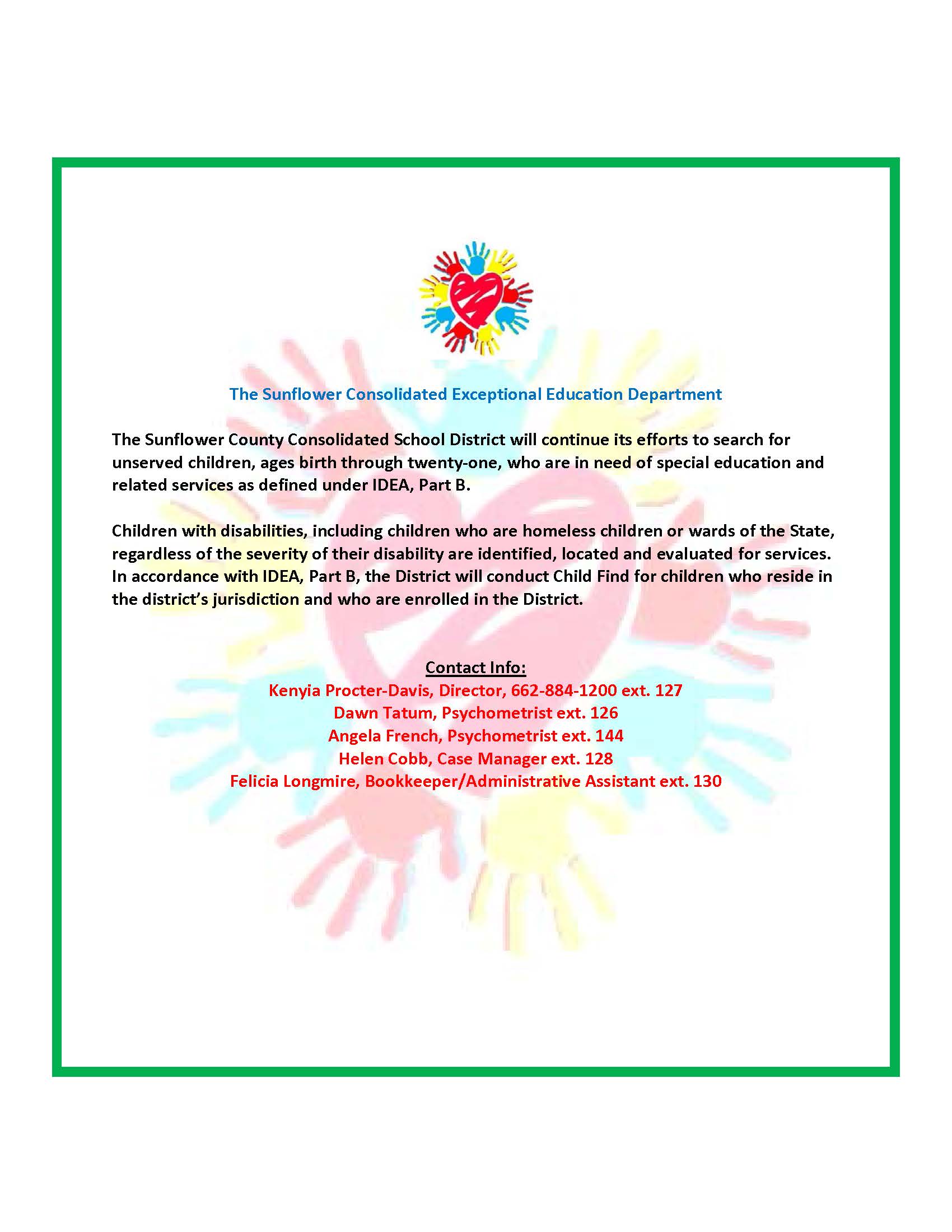 Procedures for Statewide Implementation
Each year the Mississippi Department of Education (MDE) publicizes that the State is providing educational opportunities to children with disabilities and that parents or other interested individuals should refer a child who may have a disability to local school authorities. This can be done by:
Publicizing child identification information via the MDE's web-site

Providing brochures to regional and local offices of State agencies and non-profit social services agencies regarding child identification

Providing brochures to locations that serve populations of highly mobile children; and

Maintaining a Child Find referral system to forward information to local school districts